I was too lazy to update my LJ all week.
This week went by SO fast, as well as October in its' entirety. I cannot believe that it's the 29th. The end of the trimester is coming soon, and before I know it, it will be Thanksgiving vacation and then Christmas. Tuesday will be Halloween, but who knows what I'll be doing. I really want to go trick-or-treating and take advantage of still being young, but I don't have a costume. Maybe i'll get one by then, or maybe I'll just buy myself some candy and hang with Tim and Ryan all night.
Things with Tim and I are fantastic. Of anything in my life, he feels closest to home. I don't care where we are or what we're doing, as long as we're together. I feel like i'm not whole without him; he is my other half. My life will never be the same as it would've been if I hadn't met him. The changes I've made, the growth i've done, the young woman i've become. Basically, I can't imagine Tim not being in my future. We have so much planned out for the next few months. December, we go to see Brand New and Dashboard in Lowell, MA. Over February vacation, Tim's family is thinking about going to the Bahamas so I'm most likely going, as well as during April vacation when we'll probably go back to Texas.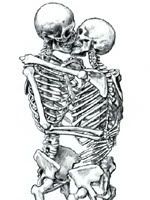 Enough about the future. Here's what's been going on all week:
School, hanging out with Tim and Ryan, finding out my mom's boyfriend has cancer in his brain, started reading Lord of the Flies, carved a Halloween pumpkin, had about a billion tests and quizzes, got a musictone for when my mom calls called "If You Talk too Much (My Head Will Explode), and wasted a ton of time doing sudokus.

Now enough of this.